Big & Rich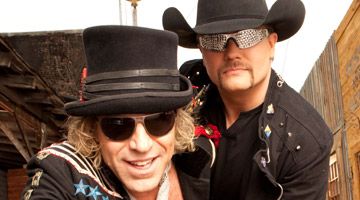 Date:
December 29, 2013 8:00pm
Location:
Cost:
$65 - $85 plus tax and convenience fees
When it comes to Big & Rich, there's no need for a typical bio. You can get a telling of their early career—separate and together--from the folks at Warner Bros. Nashville, or by Googling the dynamic duo. Their back story hasn't changed, so why retell it? I'm more interested in the biography of the choices they've made as Big & Rich. In their mixing of traditional country sounds with hip-hop, rock, and the occasional Native American yell. Their employment, in their Muzik Mafia troupe, of a painter who works on a canvas during B&R shows, and of a former Foot Locker salesman, called Cowboy Troy, who's become the most prominent black country performer since Charley Pride—with one major difference. Troy raps. In Spanish, sometimes. As does Big Kenny, doing a little "hick-hop." And then their social messages, including "Love Everybody," flashing on big screens behind them, and emblazoned on the back of Big Kenny's guitar.