Divas Starring Frank Marino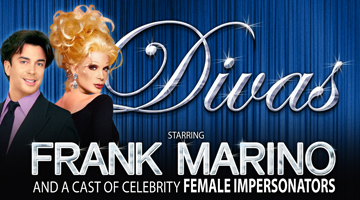 Date:
June 16 & 17, 2017
Cost:
Tickets from $20.00 plus taxes and convenience fees
This energetic show stars Frank Marino, Las Vegas' longest-running headliner, alongside a talented cast of celebrity impersonators who replicate the likes of a variety of beloved pop stars with accuracy you won't believe. Diana Ross, Cher, and Madonna, as well as all your favorite new-age divas, all have a place in this outrageously entertaining show. Have the time of your life while watching these drag performers lip-sync to the hottest hits of today and yesterday while showing off a dazzling wardrobe. Marino kicks the show off as beloved comedian Joan Rivers, and the laughs only continue from there.