Joan Rivers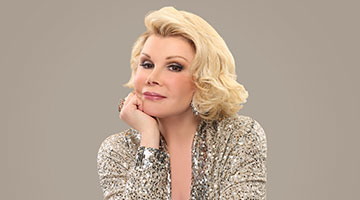 Date:
June 28, 2013 - 8:00pm
Location:
Cost:
$25 - $45
Joan Rivers is an Emmy Award-winning American comedian, television personality and actress. She is known for her brash manner; her loud, raspy voice with a heavy New York accent; and her numerous cosmetic surgeries. Rivers's comic style relies heavily on poking fun at herself and other celebrities, mostly about their fashion sense, or according to her, the lack thereof.
Guests must be 21 or older to attend the show.