Larry Gatlin and the Gatlin Brothers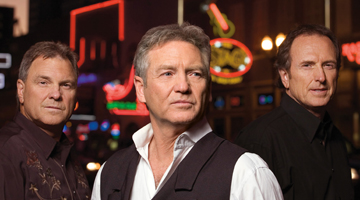 Date:
January 11, 2014 8:00pm
Location:
Cost:
$25 - $40 plus tax and convenience fees
Over 50 years ago, Larry, Steve, and Rudy Gatlin started singing in their little hometown of Abilene, Texas, and from there went on to make music history. Over the course of a four-decade career that has taken the Gatlin Brothers from dusty Texas stages to White House performances, from Broadway to Grammy Awards to the top of the country charts, there has been one unifying element, music.

There's no harmony quite as pure as family harmony. "Gatlin harmonies spin with high and light precision and their music bleeds and screams of love and a lot of living" said Country Capsule in New York. Larry, Steve, and Rudy love to sing together. Raised on Gospel music, the brothers first began entertaining audiences in churches and then with guest appearances on the Slim Willet radio and TV shows in Abilene, Texas when they were 2, 4, and 6 years old. Larry says that their history as "gospel music junkies" came from those early roots. "My folks took us to those old fashioned Southern style quartet concerts, and it was love at first sound! My first hero was James Blackwood of the Blackwood Brothers Quartet-I just knew somehow from that moment that I wanted to be a singer for the rest of my life."